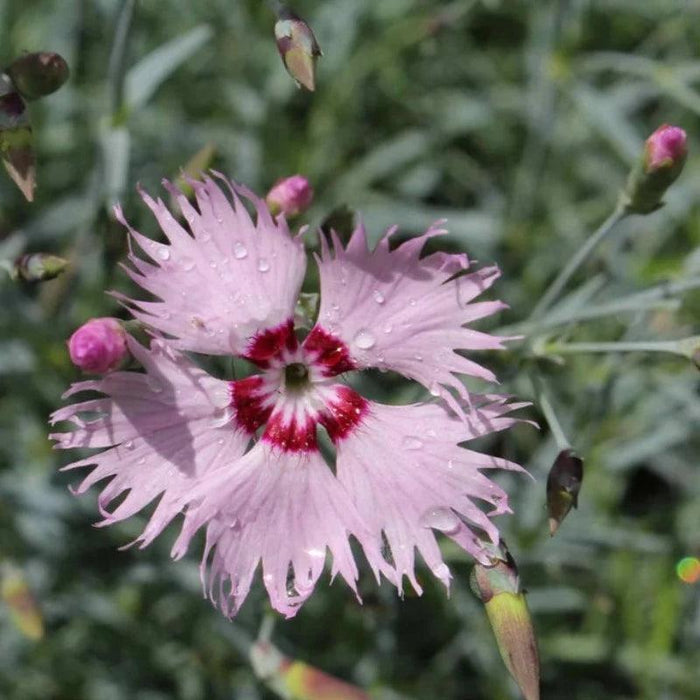 Cottage Pinks Dianthus Flower Seeds - Heirloom Seeds, Chinese Pinks, Fragrant, Pollinator Garden, Edible Flower, Open Pollinated, Non-GMO
Original price
$1.99
-
Original price
$1.99
Perennial Dianthus plumarius produces fragrant, edible flowers in shades of white, pink, purple, and bicolored notched petals, which sit atop grass-like blue-green foliage. This variety makes a wonderful border plant and cut flower. Its sweet and spicy scent attracts pollinators while being resistant to deer.
For growing, sow the seeds indoors 8-10 weeks before your last average frost date, pressing them into the soil but not covering them, as they need light to germinate. After your average last frost date, transplant the seedlings outdoors or directly sow the seeds 1-2 weeks after the last frost.
About Our Seeds:

Our seeds are non-GMO, open-pollinated, and untreated (free from fungicides, pesticides, herbicides, etc.)
We regularly test our seeds to ensure they meet the highest germination standards.
We provide full, detailed growing instructions for all our seeds.
Our seeds are professionally packed in eco-friendly resealable packets made from recycled materials and printed with vegetable-based ink, without the use of plastic ziploc bags.
Package Quantity:

Interesting Facts:-
The seeds for Cottage Pinks Dianthus are heirloom seeds, which means that they have been passed down through generations of gardeners. They are open-pollinated, which means that the seeds can be saved and replanted year after year, preserving the unique characteristics of the original plants. Cottage Pinks Dianthus flowers are not just beautiful, but they are also edible. The petals can be used to garnish salads, desserts, and other dishes, adding a sweet, spicy flavor.