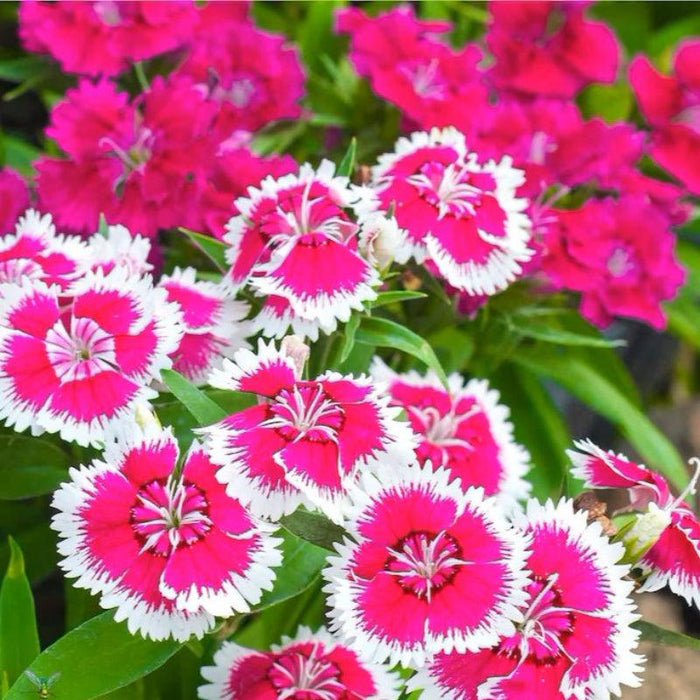 Baby Doll Dianthus Flower Seeds - Heirloom Seeds, Edible Flower Seeds, Ground Cover, Open Pollinated, Non-GMO
Original price
$1.99
-
Original price
$1.99
Baby Doll Dianthus, a perennial plant also known as (Dianthus chinensis), can be a distinct ground cover in a sensory garden due to its mesmerizing petal patterns that come in various shades of white, rose, red, and crimson. Its pleasant scent, reminiscent of jasmine, can attract both people and pollinators. Because of its compact and spreading growth habit, it's an ideal choice for filling containers.
To cultivate the plant, start by sowing the seeds indoors six to eight weeks prior to the average last frost date while keeping the soil temperature between 60-65 degrees until germination. Once the seedlings are established, gradually expose them to the outdoors, a process known as hardening off, and transplant them after the last frost. Alternatively, you can directly sow the seeds outdoors after the last frost.
About Our Seeds:-
Our seeds are non-GMO, open-pollinated, and untreated (free from fungicides, pesticides, herbicides, etc.).
We regularly test our seeds to ensure they meet the highest germination standards.
We provide full, detailed growing instructions for all our seeds.
Our seeds are professionally packed in eco-friendly resealable packets made from recycled materials and printed with vegetable-based ink, without the use of plastic ziploc bags.

Package Quantity: