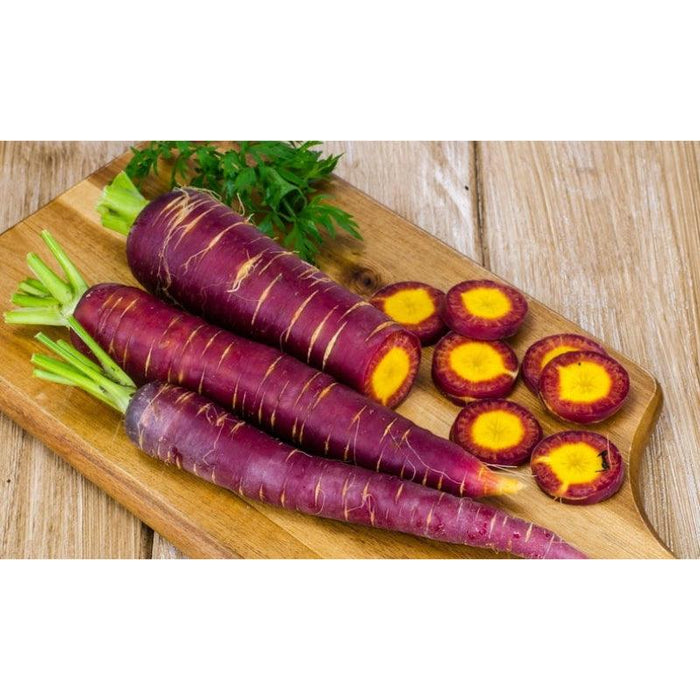 Cosmic Purple Carrot Heirloom Seeds
Original price
$1.99
-
Original price
$1.99
Sativus Daucus carota The purple tint of Cosmic Purple, a sweet, coreless carrot, is not new; rather, it has been around for a very long time. With twice as much beta-carotene as an orange carrot and 28 times more anthocyanins, this carrot is both a visual delight at markets and a nutritious powerhouse. A carrot of the Danver's kind, Cosmic Purple has 6–8" long, crisp roots. This is a stunning addition to any meal and a wonderful surprise for kids thanks to its vibrant orange interior and purple exterior.
Our seeds are non-GMO, open-pollinated,  and untreated (free from fungicides, pesticides, herbicides, etc.)
We regularly test our seeds to ensure they meet the highest germination standards.
We provide full, detailed growing instructions for all our seeds.
Our seeds are professionally packed in eco-friendly resealable packets made from recycled materials and printed with vegetable-based ink, without using plastic ziploc bags.
Package Quantity:-
Interesting Facts:-
These carrots are easy to grow and maintain, making them perfect for gardeners of all skill levels. They prefer well-drained soil and full sun and can be grown in containers or in the ground. Cosmic Purple Carrots are a great addition to any vegetable garden, as they are not only beautiful but also delicious. They have a slightly sweet, nutty flavor and can be enjoyed raw or cooked.