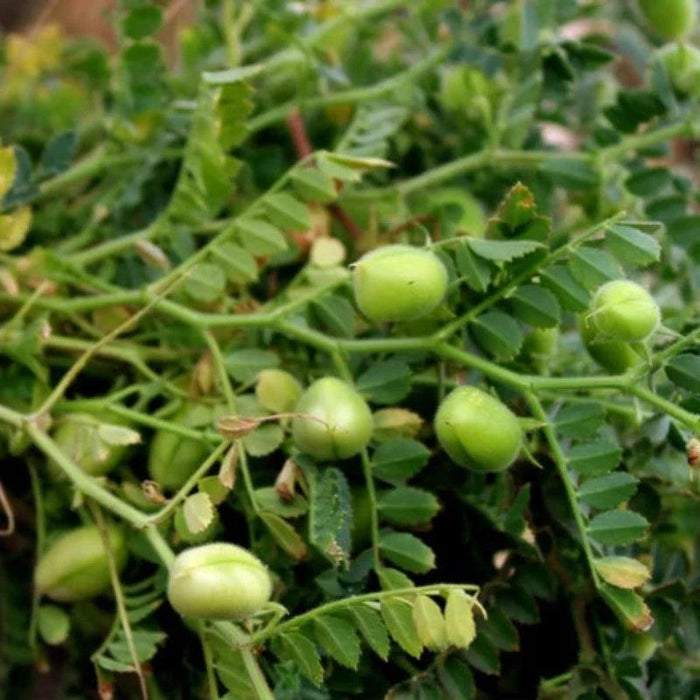 Garbanzo Bean Seeds - Heirloom Seeds, Chickpea Seeds, Bush Bean, Microgreens, Sprouting Seeds, Hummus, Open Pollinated, Untreated, Non-GMO
Original price
$1.99
-
Original price
$1.99
This 7g (Min. 20 Seeds) package of Cicer arietinum, also known as Chickpea, Garbanzo, or Bush Bean, is an ancient heirloom legume crop beloved for its unique and delicious nutty flavor and nutrient density. The 1" pods carry one to two round, tan beans each that can be picked fresh or dried for use in hummus or as a tasty roasted snack. It's also great for microgreens and sprouts, plus it helps improve soil health by fixing nitrogen when used as a cover crop. Our seeds are non-GMO, US grown, and open-pollinated with no fungicides, pesticides, or herbicides applied during the growing process. They are tested regularly to ensure they meet the highest standards of germination success and come packaged with detailed growing instructions included.
Our seeds are non-GMO, open-pollinated,  and untreated (free from fungicides, pesticides, herbicides, etc.)
We regularly test our seeds to ensure they meet the highest germination standards.
We provide full, detailed growing instructions for all our seeds.
Our seeds are professionally packed in eco-friendly resealable packets made from recycled materials and printed with vegetable-based ink, without using plastic ziploc bags.
Quantity: