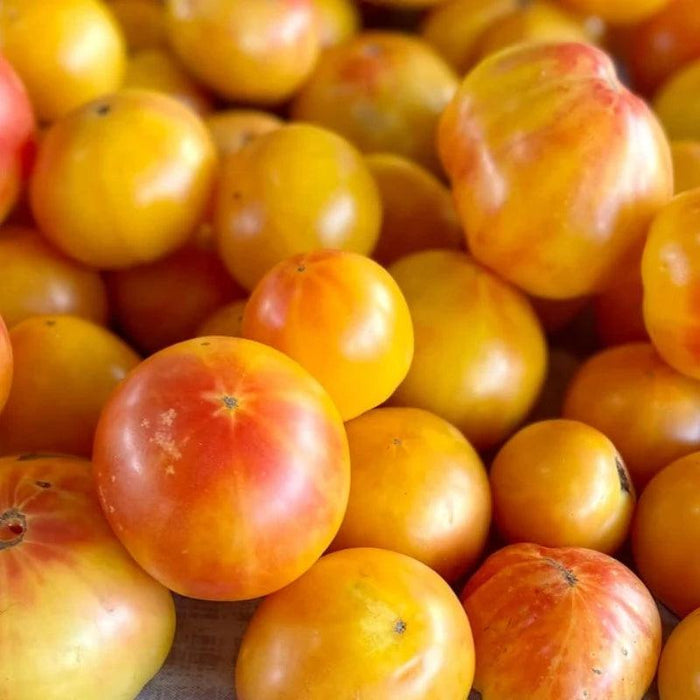 Mr. Stripey Tomato Seeds - Heirloom Seeds, High Sugar, Low Acid, Indeterminate, Open Pollinated, Non-GMO
Original price
$1.99
-
Original price
$1.99
Mr. Stripey (Lycopersicon lycopersicum) is an Indeterminate heirloom variety dating back to the 1800s. This tomato plant produces large fruits that can weigh over a pound each, featuring yellow, orange and red striped flesh. It has a mild, sweet flavor with low acidity and high sugar content, making it an ideal choice for those who prefer less acidic tomatoes. Mr. Stripey is great for salads, sandwiches or any other recipe requiring tomatoes.
About Our Seeds:

Our seeds are non-GMO, open-pollinated, and untreated (free from fungicides, pesticides, herbicides, etc.)
We regularly test our seeds to ensure they meet the highest germination standards.
We provide full, detailed growing instructions for all our seeds.
Our seeds are professionally packed in eco-friendly resealable packets made from recycled materials and printed with vegetable-based ink, without the use of plastic ziploc bags.
Package Quantity:

Interesting Facts:
Stripey (sometimes confused with Tigerella) is a type of heirloom tomato with unusually small leaves and a mix of a yellow and red color that can fool some growers into thinking they are picking an unripe tomato. Under good conditions in size, shape, and internal structure it may be considered a "

beefsteak

".