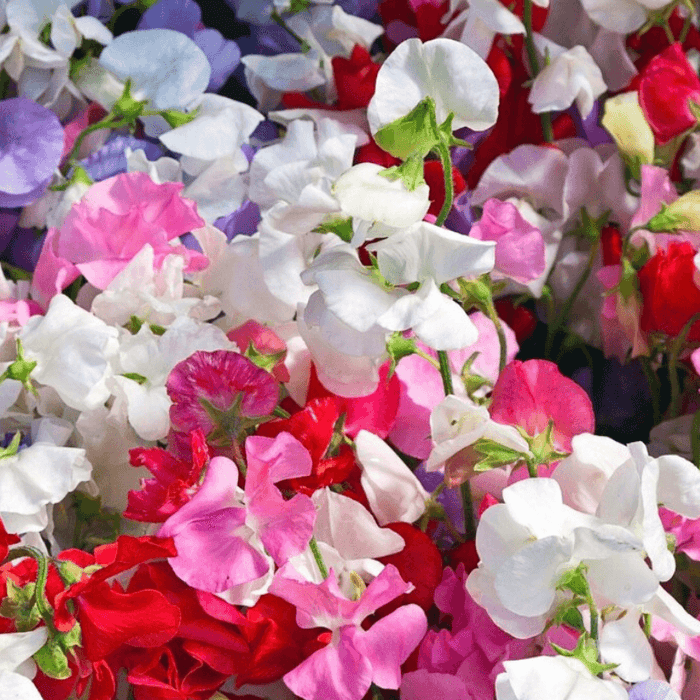 Pea Flower Mix Seeds - Heirloom Seeds, Ornamental Flower Seeds, Pollinator Garden, Open Pollinated, Non-GMO
Original price
$1.99
-
Original price
$1.99
This plant, Lathyrus odoratus, is an annual and an old-fashioned cut flower that has been beloved for generations. This dwarf variety produces the sweetest bouquets of highly fragrant blooms in shades of red, blue, purple, pink, and white. It is a lovely addition to cut flower gardens, borders, window boxes, and containers. The Bijou Mix variety's bright cascading colors and alluring aroma attract pollinators. To encourage heavy and extended flowering, it is recommended to harvest the flowers regularly and remove seed pods. Sweet peas grow best in cool weather.
To grow these plants, the hard seed coats must be softened prior to planting. You can soak the seeds overnight in warm water or scratch the surface of the seed with a sharp knife. Plant them in spring as soon as the soil can be worked. These plants are light frost tolerant, and you should plant the seeds just below the surface and keep them moist until germination. Alternatively, you can start them indoors 6-8 weeks before your last frost and transplant them outdoors as soon as the soil can be worked.
About Our Seeds:-
Our seeds are non-GMO, open-pollinated, and untreated (free from fungicides, pesticides, herbicides, etc.).
We regularly test our seeds to ensure they meet the highest germination standards.
We provide full, detailed growing instructions for all our seeds.
Our seeds are professionally packed in eco-friendly resealable packets made from recycled materials and printed with vegetable-based ink, without the use of plastic ziploc bags.

Package Quantity: