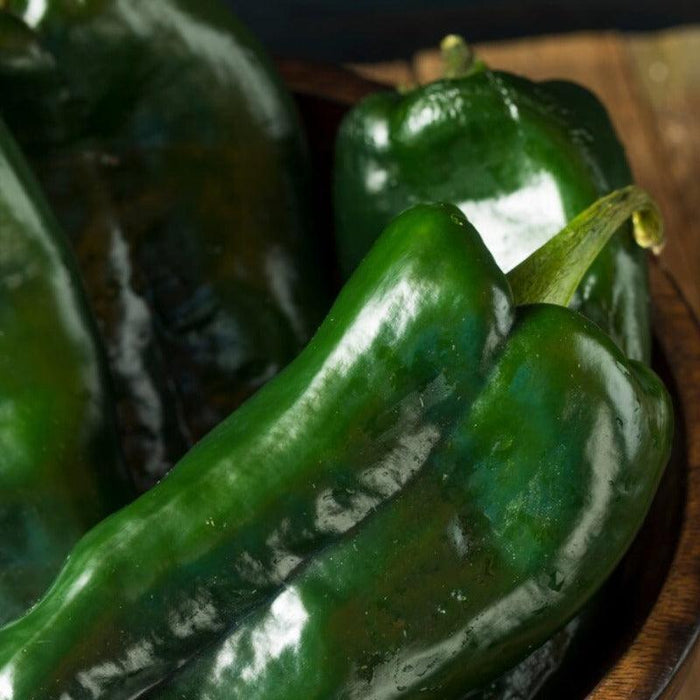 Poblano Ancho Hot Pepper Heirloom Seeds - Chili Rellenos, Mole Poblano, Chili Powder, Roasted Pepper, OP, Non-GMO
Original price
$1.99
-
Original price
$1.99
The Poblano chili, scientifically known as Capsicum annuum, is a highly favored pepper that has a multitude of delectable applications. It is commonly known as a Poblano when it is still green and is renowned for being the traditional choice for preparing chili rellenos. Once it ripens and dries, it becomes an Ancho and is frequently utilized for producing chili powder and Mole Poblano. We enjoy savoring these peppers when they are roasted, stuffed, and dried.
Poblano peppers can grow up to a height of 24 inches and produce a substantial number of fruits that measure around 4-5 inches in length. They possess a moderate heat rating of 1,000-2,000 Scoville Heat Units.
About Our Seeds:

Our seeds are non-GMO, open-pollinated, and untreated (free from fungicides, pesticides, herbicides, etc.)
We regularly test our seeds to ensure they meet the highest germination standards.
We provide full, detailed growing instructions for all our seeds.
Our seeds are professionally packed in eco-friendly resealable packets made from recycled materials and printed with vegetable-based ink, without the use of plastic ziploc bags.
Package Quantity: