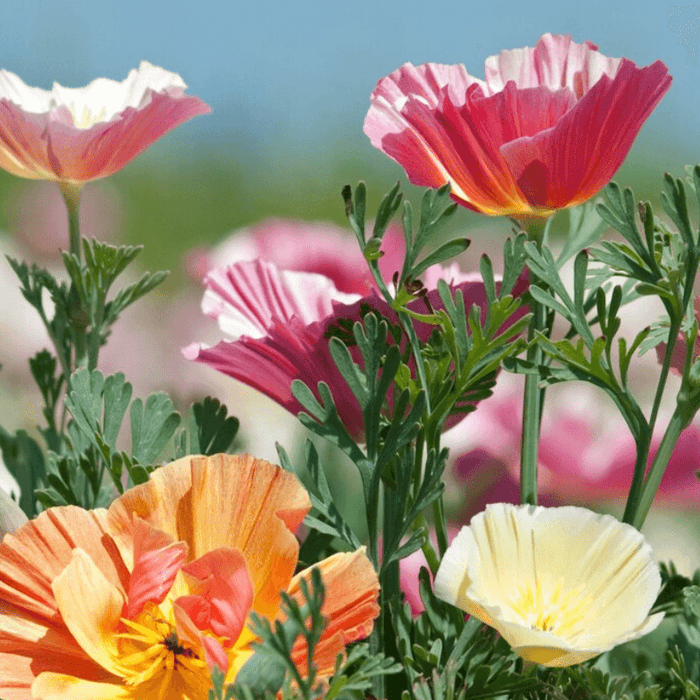 Poppy, Ballerina Mix Heirloom Seeds - Flower Seeds,
Original price
$1.99
-
Original price
$1.99
This plant is both a tender perennial and a hardy annual. It is a compact blend of flowers that boasts unique, crimped petals that resemble the ruffled dress of a ballerina. The flowers bloom in shades of orange, yellow rose, white, and scarlet, ranging from single to semi-double blooms. The plant grows to a height of 8-14 inches and is drought-tolerant, and self-seeding readily. It is easy to grow from seed, and the blooms usually appear within 55 days of planting. Moreover, honey bees love this flower, making it a popular choice for pollinator gardens.
About Our Seeds:-
Our seeds are non-GMO, open-pollinated, and untreated (free from fungicides, pesticides, herbicides, etc.).
We regularly test our seeds to ensure they meet the highest germination standards.
We provide full, detailed growing instructions for all our seeds.
Our seeds are professionally packed in eco-friendly resealable packets made from recycled materials and printed with vegetable-based ink, without using plastic ziploc bags.

Package Quantity:

Interesting Facts:-
California Poppy, also known as Eschscholzia californica, is a species of flowering plant native to California, USA. It is the state flower of California and is known for its bright orange or yellow blooms. The Ballerina Mix Heirloom Seeds variety of California Poppy produces delicate, double-flowered blooms in shades of orange, pink, and white. This mix is perfect for adding a splash of color to any garden or landscape.