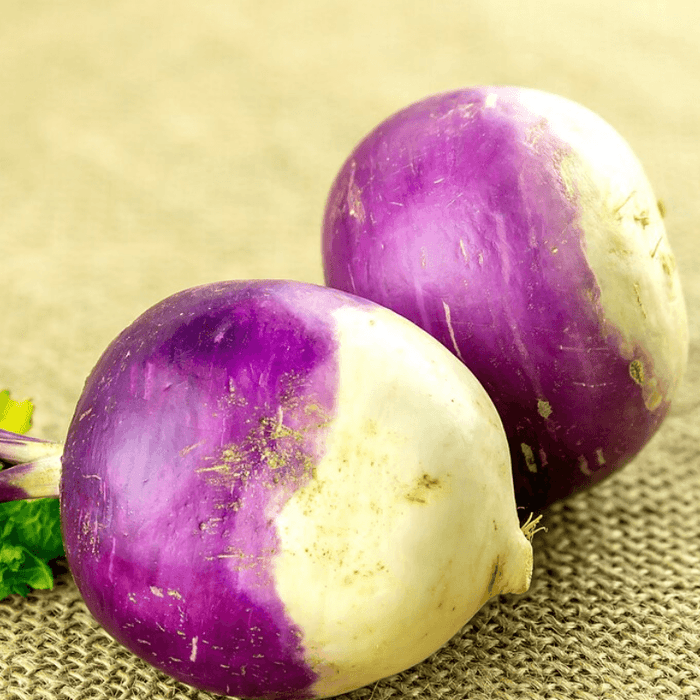 Purple Top Rutabaga Heirloom Seeds
Original price
$1.99
-
Original price
$1.99
The American Purple Top Rutabaga, scientifically known as Brassica napus, is a root vegetable that can grow from 3 to 6 inches in length. It has a golden yellow flesh and a striking purple top. This root vegetable is not only visually appealing, but it also has a pleasant, sweet taste and can be used in a variety of ways, such as being mashed like potatoes or incorporated into stews and casseroles.
Rutabagas are most flavorful when they are harvested during cooler weather, which makes them an excellent crop to cultivate in the fall. Additionally, they are well-suited for winter storage, making them a convenient vegetable to have on hand during the colder months.
About Our Seeds:-
Our seeds are non-GMO, open-pollinated, and untreated (free from fungicides, pesticides, herbicides, etc.).
We regularly test our seeds to ensure they meet the highest germination standards.
We provide full, detailed growing instructions for all our seeds.
Our seeds are professionally packed in eco-friendly resealable packets made from recycled materials and printed with vegetable-based ink, without the use of plastic ziploc bags.

Package Quantity: