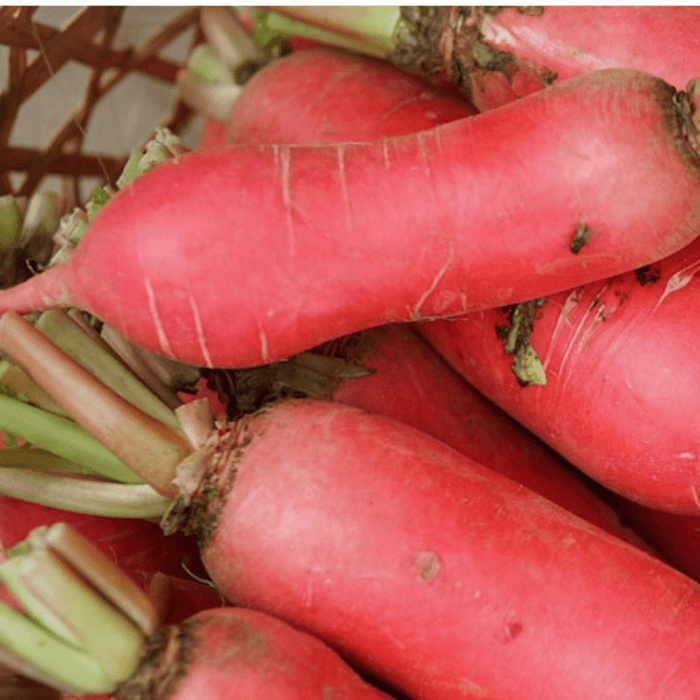 Rose Radish Heirloom Seeds - Root Vegetables, Fall Garden, Microgreens, Sprouting Seeds, Non-GMO
Original price
$1.99
-
Original price
$1.99
Rose, scientifically known as Raphanus sativus, is a hardy type of radish that thrives in cooler seasons like fall and winter but can also grow well in spring. The roots of China Rose are long and cylindrical, measuring approximately 5 inches in length, and feature firm flesh with a rosy hue. Not only does this variety make a visually appealing addition to salads, but it is also a good source of Vitamin C. Additionally, but China Rose sprouts can also be utilized as microgreens, providing an excellent and nutritious addition to a variety of dishes.
Our seeds are non-GMO, open-pollinated,  and untreated (free from fungicides, pesticides, herbicides, etc.)
We regularly test our seeds to ensure they meet the highest germination standards.
We provide full, detailed growing instructions for all our seeds.
Our seeds are professionally packed in eco-friendly resealable packets made from recycled materials and printed with vegetable-based ink, without using plastic ziploc bags.
Package Quantity:-

Interesting Facts:-
The Rose Radish is also known for its high nutritional value, being a good source of vitamin C, folate, and dietary fiber, as well as its versatility in the kitchen, being used in a variety of dishes from salads to sandwiches.