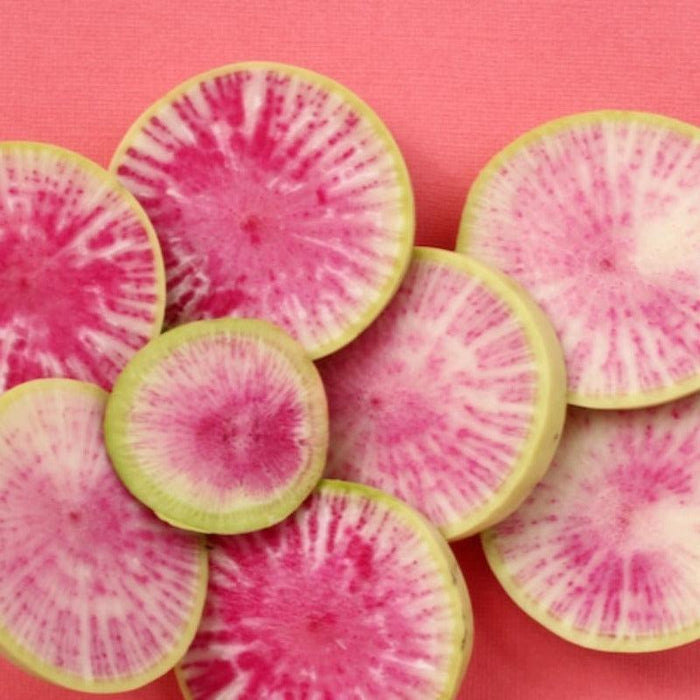 Watermelon Radish Heirloom Seeds
Original price
$1.99
-
Original price
$1.99
The radish variety known as Raphanus sativus is one of the most aesthetically pleasing vegetables you will ever come across! Its 4-inch round roots have a deep green color that gradually fades to white, while the center is a stunning rosy red.
In addition to its appearance, this radish has a mild, sweet, and crispy taste that makes it a great addition to salads.
This radish variety thrives in cooler weather and is ideal for fall planting.
If you are interested in growing these stunning and delicious radishes, you can purchase 1g of seeds, which contains a minimum of 75 seeds.
About Our Seeds:-

Our seeds are non-GMO, open-pollinated, and untreated (free from fungicides, pesticides, herbicides, etc.)
We regularly test our seeds to ensure they meet the highest germination standards.
We provide full, detailed growing instructions for all our seeds.
Our seeds are professionally packed in eco-friendly resealable packets made from recycled materials and printed with vegetable-based ink, without using plastic ziploc bags.
Quantity:-